CleanSlate Pet Carpet & Upholstery Spot Cleaner
$139.99
Regular price
$139.99
Sale price
Unit price
per
+ FREE Shipping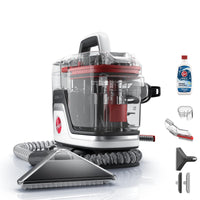 Product Highlights

Powerful suction for larger spots & stains
Tools for every mess with the 7" WidePath Tool and TightSpot Tool
Permanently remove pet stains & eliminate odors with the included Oxy Concentrate
Quickly remove spills when they happen

$139.99

Regular price

$139.99

Sale price

Unit price

per

+ FREE Shipping

Earn

Hoover Points

with this purchase

i

Description

The CleanSlate Pet Carpet & Upholstery Spot Cleaner combines powerful suction, versatile tools, and the performance of the Oxy formula to permanently remove stains and messes. With our 7" WidePath Tool for large areas like stairs and the TightSpot Tool for crevices and tough to reach areas, you'll have the flexibility you need to clean messes of any size. Quickly remove spills and stains on the go thanks to a light, portable design and a long cord so you can easily move between areas. And with the Hose Rinse tool, your machine stays clean and ready for the next mess.

Parts & Accessories

Compatible Parts & Accessories for this product

Specifications

Accessories Included

2-in-1 Antimicrobial Bristle Brush and Rubber Nub Tool,Cleaning Solution,Measuring Cup

Assembled Unit Depth

14 In

Assembled Unit Height

13 In

Width

11.9in

Assembled Unit Width

10.5 In

Clean Water Capacity

40 Ounces

Cord Length

15 Ft

Handle Material

Plastic

Hose Length

4.5 Ft

Hose Type

Deluxe Stretch

Oxy Technology

Yes

Perfect for Pets

Yes

Product Weight

9.4 Lbs

Ready to Use Hose

Yes

Removable Water Tank

Yes

Width

11.9in

@Babysideburns

I used to panic when someone would spill something in our house, which led to a lot of freaking out and yelling. Until I got Clean Slate. Now I know exactly what to do— just stay calm and get out my Clean Slate. It will all be okay.

@CleanThatUp

As a professional carpet cleaner and janitor I am always looking for a quality spotter machine to not only use myself at home but also recommend to my clients. The CleanSlate is that very machine. It's super easy to use and is grab and go for those unexpected spills. I absolutely LOVE my CleanSlate.

@Mojistyle

As a mama of 3 kids, i had stains everywhere I tried out the hoover clean slate to spot clean my dining chairs and rug and I was so happy with how clean my chairs and rug look. It's definitely a must have for all moms!

@Raising Maidens

Our CleanSlate has been such a great addition to life with small children! No matter the mess, the CleanSlate easily cleans it up on the spot! Highly recommend this product!

@JoyMarilie

The Hoover Clean Slate is a product that every mom needs! I wish I had it sooner. There are so many set in stains on upholstery and rugs around our house now because all we could do before is blot the stain. Having a compact machine that's super easy to set up when inevitable kid spills or accidents happen, is a game-changer! I highly recommend it to every person with a resident mess-maker

Powerful suction for life-size spots and stains.

The Hoover CleanSlate portable carpet and upholstery cleaner combines powerful suction with a larger capacity tank and the power of OXY so you can clean real life messes with confidence… even the bigger ones!

Permanent Stain Removal

Strong suction combined with powerful Oxy concentrate helps you eliminate tough spots and stains caused by mud, wine, pasta sauce, coffee and more.

Portable and perfect for pet messes

From potty training accident to tracked in mud, CleanSlate offers an easy way to tackle problem areas all over the home.

7 in. WidePath Tool

Got a bigger stain? The 7 in. WidePath tool covers more ground in each pass so you can remove larger spots quickly.

TightSpot Tool

Easily get into nooks and crannies like around baseboards, in-between couch cushions and around furniture with the TightSpot Tool.

Hose Rinse Tool

There's even a tool to help you clean your CleanSlate. Simply use the Hose Rinse tool to flush clean water through the system after you clean.

Unplanned messes? No problem.

Clean spots, spills, stains and accidents with complete confidence.

Between kids, pets and other inevitable mishaps, real life is real messy. That's where CleanSlate comes in. This portable spot cleaner gives you the confidence you need to live life without worrying about what messes might come your way. Powerful suction combined with the cleaning power of our OXY formula kicks your deep cleaning into high gear, meaning you're in control the next time the puppy has an accident or your toddler spills his lunch.

Powerful Suction

Lift and remove new spills and old stains with ease.

2-IN-1 Versatility

Bristle Insert: Best for scrubbing carpets, rugs, sofas, and upholstery. Rubber Nub Insert: Best for high pile carpets and cleaning pet messes

Fast-Acting OXY

Hoover's pre-mixed OXY formula permanently removes tough, colored stains.

Portable & Compact

Take CleanSlate wherever the mess goes, including on upholstery, stairs, cars and more.

Choosing a selection results in a full page refresh.
Opens in a new window.