Environmental, Social, and Governance Report 2021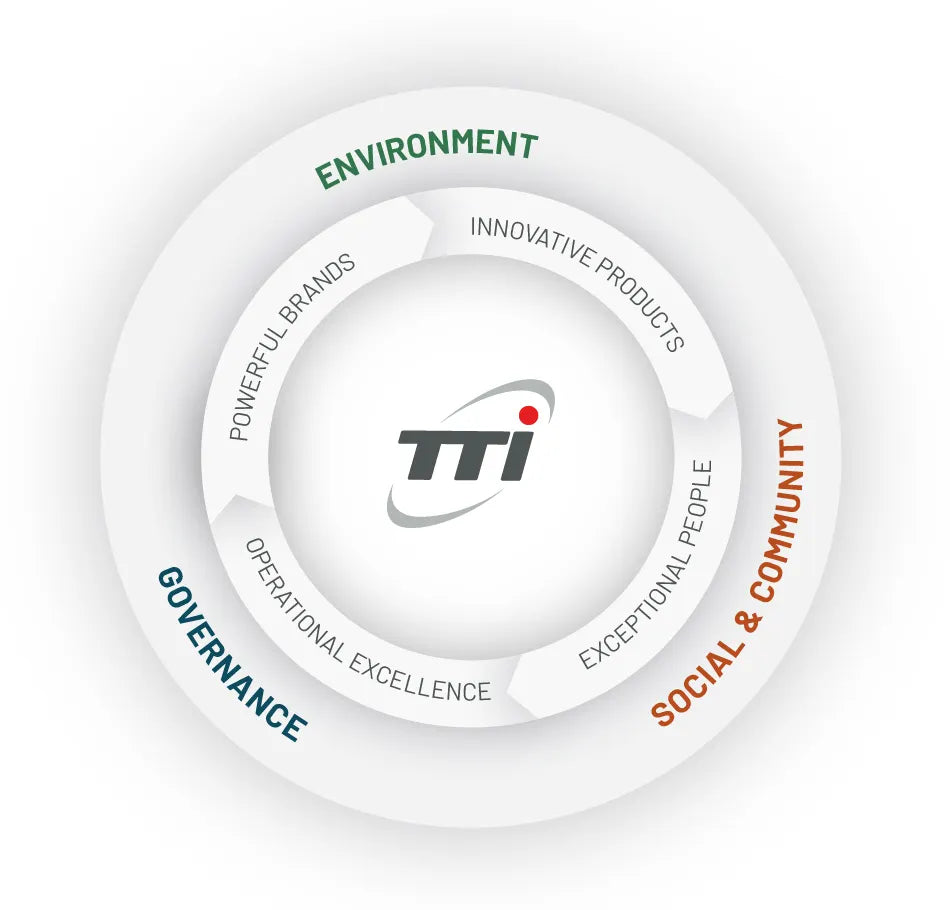 As a part of Techtronic Industries (TTI), Hoover has embedded sustainability as a core value in all aspects of our business. Our TTI group operates on Environmental, Social, and Corporate Governance (ESG) principles as outlined by their material topics below and expressed through our four strategic drivers:
We support Powerful Brands with a long legacy of inventing and producing reliable, high-quality products. From platform consistency to power output and from waste reduction to customer service, these complementary strengths serve as the focus for all our operations
We maintain laser-focus on developing Innovative Products with superior cordless technology to meet the changing needs of our customers and end-users across our product categories
We hire Exceptional People and pair them with a management team that brings decades of industry knowledge and experience to our global operations, cultivating a high-performance culture across all levels of our organization
From our new product development program and advanced logistics distribution networks to our customer servicing teams, TTI maintains a relentless focus on execution and Operational Excellence, ensuring our continued leadership in a dynamic market
These concepts, and the synergies between them, are the organizing principles that have led to our ongoing sustainability and growth. Our drivers guide the bold strategic direction that has enabled Hoover to consistently deliver on our financial goals of outgrowing the market, gross margin improvement, and profit that grows faster than sales.
Read Our 2021 ESG Report
60% REDUCTION IN GHG EMISSIONS (Scope 1&2) BY 2030
Main Contributors to Achieving our Reduction Target
1. Energy Efficiency
2. Onsite solar photovoltaics
3. Offsite renewable energy procurement
4. Energy Attribute Certificates (EAC)
5. Electric vehicle conversion
6. Operational improvements
Environment
Protecting our planet is critical for the long-term environmental sustainability of our communities and business. Our approach to environmental sustainability is closely tied to our quest for innovation. Since our early days, we have aimed to embed disruptive technologies into our products, delivering cordless, battery powered alternatives and energy-efficient options. HOOVER is not only committed to managing our impacts across our product range but also our global operations and value chain. We accomplish this by conserving resources, maximizing efficiencies, and prioritizing innovation. By setting clear targets that keep us accountable and encouraging everyone — employees, suppliers, customers, and communities — to do things differently, we strive to lead and effect positive change.
Oversight of Sustainability
Supply Chain Accountability
Governance
The Company is committed to a high standard of corporate governance to enhance shareholders' interests and promote sustainable development.A quality board of directors (the "Board") with balanced skills, experience and diversity of perspectives is vital to the Company for effective risk management, internal controls, and leadership, as well as transparency and accountability to all shareholders. The Board reviewed codes of conduct, policies and practices and our corporate governance framework from time to time, to improve the Company's corporate governance practices in respect of the latest developments on all applicable laws, rules, and regulations.
Choosing a selection results in a full page refresh.
Opens in a new window.